Will you live a financially free and fulfilling retirement?
When traditional managed super funds and commodities proved their volatility during the 2008 GFC, many Australians faced their own financial crisis, staring down the barrel of impending retirement after having lost a significant portion of their 'nest egg'.
While the GFC was a difficult lesson, with dire consequences for some, it did highlight the need for every working Australian to take action when it comes to personal financial management and forward planning, with the goal of creating a secure income stream beyond our working life.
The immense value of time
Most of us believe we're immortal until around the age of 45, when we suddenly realise that the years are marching on and we're already half way along our career trajectory.
Suddenly we feel the need to take stock and secure our future, recognising that one day we won't have the opportunity to survive paycheck to paycheck.
Often by this stage however, you're also in the midst of building a family and/or your career. And far too busy to think about the 'little things'…such as what you might do to secure an income beyond the current wage you take home each week.
But the fact is, the longer you leave it, the more critical planning becomes. Because delaying the inevitable only means you have a lot less of the one thing you need to build sufficient wealth through investment…time.
The cold hard facts about every Australian's financial future
Statistically speaking, those of us who make it to retirement and manage to live a long, healthy and prosperous life with enough wealth to see out our days in a happy state of financial independence are very much in the minority.
Data from the Australian Bureau of Statistics indicates that by the age of 65 years:
29% of us will be dead and buried.
63% will be fully or partially reliant on government handouts, attempting to survive on less than half of what most of us already struggle to live on.
3% will have to keep working, continuing to drag themselves out of bed five days a week after having done so for the last forty years.
4% will have achieved financial security. Yes, only 1 in 20 people will have sufficient wealth to sustain a comfortable retirement.
1% will be wealthy. That is, just 1 in 100 of us will be entirely free from any financial burden and living the life we've always dreamt of, after working hard for many years.
So where do you see yourself when you look at these cold, hard facts? Are you one of the fortunate few, or will you continue living on Struggle Street until the inevitable end catches up?
Some of us will be around for a lot longer – are you prepared?
We live in interesting times, where a rapidly ageing population combined with protracted average lifespans will make it increasingly difficult for the government to support large numbers of pensioners into the future.
The potential burden tomorrow's retirees represent on taxpayer dollars is significant, and means today's governments need to do some serious forward planning of their own, to ensure Australia's economic wheels don't fall off in the future.
This is particularly concerning when you consider that we're generally living a lot longer than our forebears, but choosing to spend less of our life at work.
CONTINUING TREND TO LONGER RETIREMENT


In other words, it's even more important now than for generations' past that all of us take responsibility for our own financial future, if we hope to sustain an optimal retirement lifestyle.
Currently, the shocking fact is that 74% of people aged 65 and over struggle to get by on less than $20,800 per annum, while around 40% of retirees earn less than $1,000 a month. Could you survive on that amount of money for twenty to thirty years?
Why don't more of us plan for a brighter financial future?
Money management generally isn't discussed openly within Australian culture. Traditionally, it falls on parents to manage the day-to-day running of the household and financial planning certainly isn't on the syllabus at school (although it should be!).
As such, taking the time to sit down and devise a carefully measured financial plan is not something that comes naturally to us, with money matters generally considered something of a taboo subject. Meaning we often only talk about it and seek help when faced with a dire problem.
But following a financial plan is crucial if we hope to avoid becoming one of those scary statistics, and instead realise future financial success.
The old adage, "When you fail to plan, you plan to fail" is no more relevant than when we talk about money management.
Without establishing clear goals and a strategy to achieve them, thereby acknowledging the need to plan for our future, it's all too easy to spend everything we earn and simply get by living in the 'here and now'.
But if the GFC and continuing economic challenges in the US have taught us anything, it's that shortsighted money (mis)management is a surefire recipe for financial ruin.
Money Management 101
So what does effective money management look like, and how does it inform and support our future goals and retirement needs?
Money management is really about following a set plan for financial success.
No doubt you're thinking, "But I've done budgets before and still seem to come up short, week in, week out."
While planning and budgeting itself can be quite straightforward, having a goal or future vision significant enough to drive our desire to see the plan succeed, and therefore work it consistently, is where a lot of us fall down.
Without a clearly defined destination to set out on, most of us meander through life, losing our way, experiencing costly lessons and struggling with self-discipline.
The old adage, "You will either live with the pain of discipline or the pain of regret," springs to mind when it comes to practicing sound money management.
Just speak with anyone existing on the pension and you'll see the pain they're going through, after having failed to manage their money well throughout their working career.
The aim of money management should ultimately be to make your money work for you, rather than the other way around.
As with any path you take, when setting out to make your money work in an investment vehicle like real estate, it's all about knowing where you're heading and how you'll get there, then keeping the destination firmly in focus to avoid getting waylaid.
Where will you be when retirement looms?
It might seem unlikely that in a developed, progressive country such as ours, over half of the retired population could essentially be living in relative poverty. But the following table clearly outlines just how little money some of us will have to try to survive on when it comes time for that 'golden handshake'.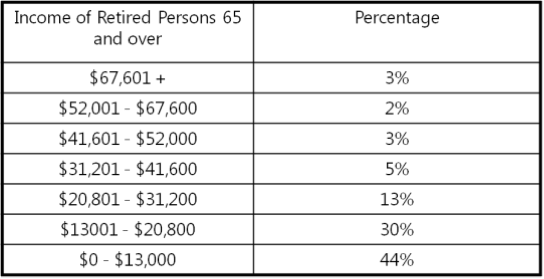 Why is it that after spending half of our life working, 87% of us will still retire on less than $31,200?
Time for change…
Most Australians live their financial lives in a way that leads straight to the old age pension…do not pass Go and here's your $200 or thereabouts to live on each week!
That means if you want a different outcome, you'll have to do things differently to how 95% or so of the population currently manage (or fail to manage) their money…
Get a job out of school and save a little for a car or holiday, or both.
Spend every other cent (and then some on credit).
Save a small deposit for a home that you'll spend your entire working life paying off.
Try to squirrel some money away for retirement, before succumbing to life on the aged pension.
Leave your children with a little bit of nothing as your legacy.
An alternative retirement plan
Instead of following the majority into a retirement of financial struggle and dependence, why not use the income you earn today differently, in order to create an income that provides financial freedom for the rest of your life?
The beauty of real estate is that it's virtually a retirement plan in itself. Well-purchased property investments that are managed effectively, and sit within an optimal cashflow environment, represent a close to perfect all-in-one future fund.
And best of all, property investment doesn't have to be difficult or all consuming. Nor does it require years of meticulously honed knowledge around market trends and economic fundamentals.
Doing things differently and retiring on the riches real estate can provide is as simple as six easy steps…
Use the equity in your home or super fund to invest in geared property (saving thousands on your personal income tax at the same time).
Use the further equity derived from your property investment to buy further real estate assets.
Continue to expand your investment property portfolio through leverage, according to your strategy and objectives.
When you want to retire, sell some properties to decrease or eliminate your overall debt exposure.
Live off the rental income from your remaining portfolio and finally…
Pass on a positive financial legacy to your children.
Sounds like a much better plan, doesn't it?
No doubt you're thinking…'Sounds great…but I don't even know where to start when it comes to investing in property. What would I buy? How would I buy it? What type of asset will be best suited to my needs?'
Because Majestic Property is so committed to seeing more Australians realise true financial independence and wealth through real estate, we're here to make the journey that much easier.
We've done all the hard work for our clients in researching and identifying the best possible opportunities with which to create your own unique investment portfolio.
Planning a prosperous, healthy, happy future is a choice that each and every one of us must make. What will you choose? Contact Majestic today and choose a life of financial freedom and a lasting legacy for your family.