Seven Key Investment Criteria to Select Your Best Possible Property Asset
Property has become an increasingly popular investment vehicle among Australians seeking to create a secure future fund; one that will generate sufficient retirement income for the necessary thirty-something years of post-work life most of us can look forward to.
We love real estate with good reason.
Residential housing has proven to be one of the most reliable and consistent commodities throughout our nation's brief but colourful history.
Not only has it outperformed traditional superannuation structures, cash investments and shares, it's also demonstrated far less volatility than all other asset classes.
Take a look at this table, which compares the Return on Investment (ROI) you can expect from different commodities over a one to ten year period, with property clearly outranking the rest of the field.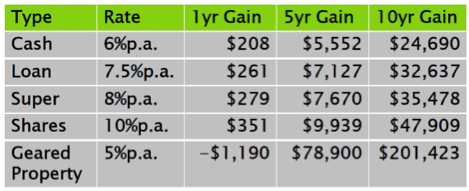 Importantly, property can also be a very forgiving investment because generally speaking, bricks and mortar will always increase in value over time. Housing is, after all, an essential commodity for human survival.
But not all property investments are created equal.
Some dwellings will generate good cashflow and exceptional capital gains, others will deliver far more of one in lieu of the other and others still have the potential to place undesirable drains on both your cashflow and overall equity position.
Thus, the question becomes, how do you find a property that ticks all the right boxes?
One that delivers both the immediate returns required to sustain your portfolio in the here and now, as well as a healthy compounding effect that sees you with sufficient equity on which to retire in years to come?
The answer is in the asset selection and acquisition process.
Picking a quality property investment is more than just a numbers game.
You need to undertake the necessary research to ensure you select and eventually purchase a property investment at the optimal price, the optimal time and in the optimal structure, in accordance with a carefully planned strategy based on your investment objectives.
How do you manage this?
Well, here at Majestic Property we've been undertaking this process on behalf of clients for some time and as such, have created a streamlined formula based on seven key criteria.
These seven key investment criteria provide the fundamental building blocks necessary for the achievement of your personal financial goals, and encourage a disciplined investment approach essential to wealth creation success.
29 years of combined industry knowledge allows Majestic Property's dedicated research department to analyse market and economic trends and assist investors in sourcing quality housing assets, located in carefully identified growth areas.
Quite simply, Majestic enables clients to make educated and informed investment decisions based on our calculated, common sense approach to property research.
Prioritising the property investment selection process
Following are the seven (non-negotiable) key selection criteria that every location and property must meet in order to satisfy Majestic's exacting investment standards.
A capital growth rate of 7.5% plus per annum
Demonstrated annual population growth of 2.7% plus
An average vacancy rate of less than 2.9%
Established and planned infrastructure
A price that sits within 15% either side of the area's overall median
A rental yield of 4.5% or more
A tax effective asset
You'll notice that Majestic's priority is on the economics of the area first and foremost, with property specifics following further down the list.
This is simply because, to coin an old real estate adage, "It's better to buy the worst house in the best street, than it is to buy the best house in the worst street."
It's not the physical dwelling that increases in value, but rather the land on which it sits that achieves capital growth.
As such, approaching asset selection from a MACRO to a MICRO perspective in terms of these key fundamentals is a far more logical process by which to acquire investment grade property.
Once a suitable area is identified, it's important to then select a property that represents a sound and tax effective investment opportunity.
Let's expand on these seven key investment criteria, so you can see how to apply this exacting formula to create your own successful, wealth producing property portfolio…
1. Capital growth is key
Capital growth is the most essential element in achieving long-term wealth and security through direct property investment.
As such, the asset must be located in an area that boasts a demonstrated and consistent track record of a minimum 7.5% annualised capital growth rate.
Importantly, this must be assessed over at least a ten to fifteen year period to account for natural market movements, and provide reassurance that future growth opportunities will continue to reflect past performance.
Less consistent patterns of capital growth over this timeframe, which trend below an average 7.5%, year on year, suggest the possible restriction of future growth potential in an area.
In these instances, the investor can safely assume a lack of principal geographic fundamentals that underpin the core value of residential real estate in any given location, such as demand for accommodation driven by economic diversity and well-established infrastructure.
Likewise, if an area seems to have experienced a sudden, short term spike in values, attracting capital growth in the region of 20% per annum over the past two or so years, you should also tread carefully.
While such price surges might make the suburb an enticing prospect when considered in isolation, these extreme market movements can in fact represent a double obstacle to long-term property investment success:
In the first instance you're entering the market after its peak, thereby over-capitalising and paying up to 40% more for the same property you could have acquired much cheaper just two years prior.
Over the long term, consistent growth in the region of 20% is simply not sustainable and will likely see annual capital growth decline in coming years to a rate below 7.5%, in order to 'rebalance' the market.
Data around capital growth is sourced from a number of recognised, independent industry bodies and carefully analysed by Majestic to ensure historical price trends in any location we're considering on behalf of property investment clients are maintaining a strong and steady pace.
2. Population growth equals property investment potential
No doubt you've heard the popular maxim, 'Location, location, location' applied as 'the golden rule' of property selection and acquisition.
But assessing a location without knowing what you should be looking for won't necessarily help in your search for the ideal investment.
Ultimately, the potential for a suburb to outperform is dependent on the underlying supply and demand balance in the area. That is, how much accommodation is available and/or can be manufactured in a location, versus how many people want to live in the area at any given time.
In other words, it's people AND position that determine the underlying value of different property contained within different postcodes. It all comes down to how much land is readily available to develop, in line with how many people choose to rent or buy in the region.
Areas that experience consistently positive population growth suggest an ongoing influx of residents, which will in turn underpin dwelling demand and capital growth.
Majestic collates and analyses comprehensive data sets around Australia-wide population movements and trends, narrowing our search for optimal property investments to areas growing at an average annual rate of 2.7% or more per annum.
This minimum growth benchmark indicates both potential for ongoing strong capital growth, as well as sustained rental demand to secure investment cashflow, and often points to opportunities within Australia's traditionally popular inner city areas.
3. Cashflow relies on retaining tenants.
There's no point buying a top performing asset that will attract a good deal of capital growth in years to come, if you can't possibly sustain the investment in the immediate to short term.
A sound property investment relies heavily on the income it's capable of producing, with the majority of that income derived from tenants. As such, you need to ensure that vacancy periods are kept to a minimum, due to strong underlying demand for local rental accommodation.
Not only will the vacancy rate for any given area provide an excellent indicator as to how steady your rental income stream will be, it also provides a compelling insight into general market demand and therefore, future capital growth prospects.
Logically, many of the factors that make an area desirable to tenants, will also attract a larger volume of owner-occupiers.
General consensus among industry commentators is that a vacancy rate of 2.9% indicates a balanced market, while anything above this threshold represents an accommodation oversupply, exceeding current levels of tenant demand.
In this less than desirable scenario, the investor may sacrifice important cashflow as their rental property sits vacant for an extended period, or they're forced to reduce the rent in order to make their property more appealing to prospective tenants.
Given that the ongoing income your investment generates is such a critical element to growing and sustaining a successful retirement fund with real estate, Majestic only recommends prime locations with long term vacancy rates trending at 2.9% or less.
This strikes that all-important balance between supply and demand, and rental yield and capital growth.
4. What an area has to offer can make all the difference
We know that supply and demand is the most fundamental equation when deciding on a property investment. But what creates demand? What compels people to want to live in one area over another?
The answer, in short, is infrastructure. What amenity is available to local residents? Interestingly, different amenity will attract different demographics to a location.
In areas with a lot of well-regarded educational facilities for instance, it's likely young families will vie for the opportunity to live in or around the vicinity and be wiling to pay more to secure a home in the region – as tenants or owner-occupiers.
Likewise, areas with diverse industry or the capacity to commute easily to and from major city centres where employment is generally concentrated, often appeal to young, upwardly mobile professionals.
As such, it's important that existing infrastructure surrounding a property be properly assessed and identified in order to better understand market demand, according to two broad categories:
Local transport links, including ease of access to local bus routes, train stations, freeways and major arterial roads, and
Local amenities, such as schools, shopping centres, cafes, parks and other recreational facilities.
Property that's within easy reach to both good transport links and local amenities increases its attractiveness to prospective tenants and owner-occupiers alike.
Hence, if a location satisfies the first three elements of Majestic's seven key selection criteria, it's highly likely that the infrastructure box will be well and truly ticked too. After all, people want to live in areas where the amenity has enduring appeal.
Given you'll be investing for future growth, it's also important to note plans around ongoing infrastructure development in a location.
Good indicators as to the potential for an area to grow significantly are private and public investment in major infrastructure and capital works.
If state or local planning authorities are rezoning vast land tracts and spending money on constructing and/or improving roads, schools and hospitals, and generally expanding facilities, it's solid proof that an increasing population movement into the area is anticipated.
Further, a notable rise in the level of private spending on infrastructure such as shopping centres, industrial areas and local business suggests confidence in future growth from the private sector.
All of this creates a strong perception of local prosperity, which in turn attracts even more new residents to the vicinity, thereby encouraging further injections of private and public funds into the region.
You can see how identifying areas undergoing extensive gentrification in this manner essentially represents a great opportunity.
5. You've found the perfect location, now for the perfect property investment
Once Majestic identifies an area that satisfies the first four investment criteria, it's time to assess the suitability of a specific property within the selected buying zone.
Obviously price is the first consideration when it comes to the successful acquisition of a long term, income producing property asset. But again, 'the right price' will depend on a number of important factors.
Whether you'd be better off spending $250,000 or $750,000 on an investment property ultimately depends on the area in which you're investing.
Here at Majestic, we often talk about 'bread and butter' property, which loosely refers to a 'typical property' that the majority of Australians can afford to buy and/or rent, and one that sits within the median price point of any given area.
It's important to note that median dwelling prices sit right in the middle, between half of a suburb's more expensive properties and half of its cheaper properties.
As opposed to the average price, which is based on the total value of stock sold during any given period, divided by the volume of stock sold during the same timeframe, and can therefore be distorted by exceptional 'high end' or 'low end' property sales.
At Majestic, we recommend that you invest at a price point no greater than 15% above the median property price.
This approach is based on the Bell Curve, which suggests that the greatest level of demand exists up to, but not above, 15% more than the median property price.
Within this carefully measured 15% plus price range, you can obtain an 'above average' property investment that should theoretically demonstrate relatively stronger purchaser and tenant demand than real estate at any other price point.
Quite simply, you'll be acquiring an asset that the majority of people can afford to buy and/or rent and therefore, providing a product that appeals to a wider market segment and enjoys optimal buyer and tenant demand.
By avoiding 'cheaper' or 'more expensive' properties, you're supplying a product for the largest population percentile and therefore are able to achieve the greatest level of demand when choosing to rent OR sell your investment property.
6. Consistent cashflow you can count on.
The capacity for your portfolio to pay its own way by generating an income stream in the form of rent is one of the things that makes real estate such a compelling investment vehicle, particularly in a low interest rate environment.
Your rental income represents a valuable cash cow that will assist in funding holding costs, reducing debt and eventually replacing other personal income streams so you can comfortably retire.
Rental yield is the annualised rental income expressed as a percentage of the property's value. So on a $370,000 property, with a weekly rent of $320 that equates to an annual income of $16,640, the percentage rental yield would be 4.5%.
Not only does this important percentage determine your return on investment and capacity to sustain your asset base over the long term with cashflow stability, it also provides am important insight into the potential rate of future capital growth.
Many investors set out to achieve the highest possible rental yield, particularly those who are inclined to avoid perceived 'risks' associated with any form of negative gearing and debt exposure.
But the fact is, a higher rental yield does not necessarily make for a better investment.
Generally, when rental yields are high (that is greater than 6%) investors are willing to accept a less than average capital growth rate. Conversely, when the going yield is low (less than 3%) investors expect compensation in the form of a greater than average capital growth rate.
In this sense, the market has always strived for balance, with investors forced to prioritise either immediate cashflow (higher rental yield & lower capital growth), or greater long-term gains (lower rental yield & higher capital growth).
Majestic believes there's a happy medium however, with rental yields of 4.2% to 5.1% indicating a solid rate of moderate capital growth, whilst shoring up a cashflow stream that allows for ongoing servicing and maintenance of the investment property.
7. Is the property investment tax effective?
One of the most cited reasons for people deciding to invest in residential real estate is to reduce their personal income tax liability.
While tax savings alone will never amount to the accumulation of significant wealth through bricks and mortar, the negative gearing and depreciation entitlements property investors enjoy do make cashflow management a much easier proposition.
For this reason, it's important to measure the tax effectiveness of an asset when evaluating how well it will perform in the short to long term and whether it will strategically strengthen your overall cashflow position.
While most residential property investments come with a long list of claimable items through negative gearing entitlements available across the board, another component that can make a measurable difference to your cashflow is depreciation.
Depreciation benefits will vary greatly between properties, depending on things like year of construction and any capital works that have been completed to rejuvenate an older residence.
A registered Quantity Surveyor (QS) is employed to draw up a depreciation schedule, which itemises all internal and external components used to manufacture and/or improve the building.
The QS assigns a value and corresponding 'depreciable allowance' to each item within the schedule. Investors can then use this document to reduce their personal tax liability and in turn, augment additional cashflow to assist in growing a viable, wealth generating property portfolio.
Majestic evaluates all residential investments acquired on behalf of clients to ensure optimal depreciation allowances, which will assist in creating a balanced and self sustaining cashflow that enables you to hold onto your asset base and watch it work for you over many years to come.
A final word on the intricacies of property investment selection…
Before starting your climb up the property ladder with the acquisition of any real estate asset, it's essential that you have a thorough understanding of any and all issues that may affect the property and impose restrictions or obligations on you, as the purchaser.
You can access a comprehensive checklist to help identify these important considerations at www.consumer.vic.gov.au/duediligencechecklist.
Remember, not all properties make the grade as reliable, long-term investments. In today's ever changing real estate and lending landscape, it's more critical than ever to know how to identify those assets that will consistently outperform in delivering greater capital growth AND higher rent returns with which to sustain your investment base.
If you've been thinking about buying a property investment, but feel uncertain as to where you should start, Majestic can help by providing a tried and tested investment blueprint that will set you up to achieve financial freedom for life.
Don't keep putting off this important first step to take control of your money and secure your financial future. Contact Majestic Property right now to start your journey on the road to real estate riches.